There's a rhythm to the popularity of slot machines and their themes.
Excitement over new games hitting the floor at live casinos or the screen at online casinos builds to a popularity peak as the games find their target audiences. During peak popularity, players flock to the games and explore all the sights, sounds and bonus features. Once players have seen all a game has to offer, they start to drift away and explore other games. In live casinos, that drifting away is a signal to start replacing the games. The most popular games remain on the floor in reduced numbers, but others are eliminated entirely.
Games can hold on longer in online casinos, where they don't require physical space, but eventually even online slots are pushed to the sideline. A few select game themes seem to defy the rhythms and remain player favorites for years and even decades at a time. The original favorites might find their numbers reduced, but they retain a loyal following, and even inspire long series of sequel games.
In this chapter, you'll learn about some of the most popular slot machines of all time, the eternal favorites that keep players coming back, and back, and back for more.
BLAZING 7S:
Talk about lasting popularity. Blazing 7s has been with us since the 1970s, developed by Bally in its old Chicago headquarters. It was designed as a rapid-hit jackpot game, with 7s symbols on fiery backgrounds and a volatility that has proved appealing through more than four decades of slot evolution.
Jackpots come fast and furious on Blazing 7s, originally designed as a dollar progressive three-reel game. On the class $1 games, the top jackpot for three triple Blazing 7 symbols starts at $1,000. Jackpots pay frequently, so they usually hit before reaching $1,200 – the level that in the United States means players must sign a tax form before collecting.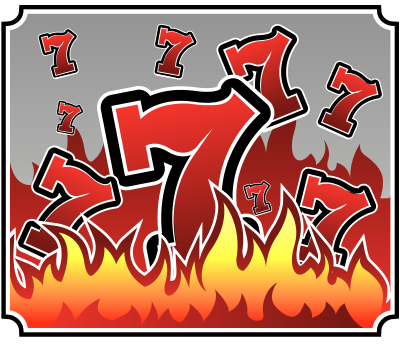 That's intentional. Designers thought about that very tax issue as they worked on the math for the game. Blazing 7s is a buy-a-pay game, and players must be aware they should bet enough to unlock all game features. On a three-reel, three-coin game, each coin unlocks a set of winning symbols. It's the final coin that unlocks the Blazing 7s symbols, and makes you jackpot-eligible.
Three-reel versions of Blazing 7s retain places on casino floors, though in nowhere near the numbers they once commanded. Still the Blazing 7s theme remains a major part of the slot experience, with a number of sequels including Blazing 7s 7x Pay; Double Jackpot Triple Blazing 7s; Triple Jackpot Triple Blazing 7s; and Diamond Line.
All feature the iconic symbols of one, two or three red 7s, engulfed in flame.
Bally, now a division of Scientific Games, has used Blazing 7s as a starting point for other innovations:
**Hot Shot progressives:
A huge hit in its own right, Hot Shot is a 40-line video slot that spotlights reel symbols depicting other Blazing 7s games. There's a unique reels-with-the-reels bonus for each featured game.
Land three Double Jackpot Triple Blazing 7s symbols on the screen, for example, and the reels on those symbols start spinning for potential wins all the way up to a progressive jackpot.
**Blazing 7s Multislot:
This was a unique attempt to offer multiple games on a mechanical-reel slot.
Multigame formats are easy to do on a video format. Each time you choose a different game, you get a different set of reels with different symbols. That's not possible on mechanical-reel games. The same symbols are going to be on the reels at all times. Blazing 7s Multislot changed the way the symbols were used on three games: Blazing 7s Free Spin, Blazing 7s Scatter and Blazing 7s Wild. They were just what the names implied – free spins were available on one game, scatter pays on another and wild symbols to create extra winners on the third. The symbols were the same, but how they worked together to form winners or bonuses was different.
DOUBLE DIAMOND:
With its elegant three-reel look, its diamond symbols and its jackpot multiplier feature, the three-reel Double Diamond slot machine has been with us since 1989. The format seems simple now, but it's led to a whole family of games from IGT.
Most reel symbols are the traditional 7s, bars, double bars and triple bars that you find on many slot games. What gives this one its spice is the Double Diamond symbol that doubles winning combinations. Get a Double Diamond symbol and two single bars, for example, and you get twice the payoff of three single bars. Make it two Double Diamonds and a single bar, and you double the payoff twice – you get four times the payoff for three bars. And three Double Diamonds, well, that's good for the machine's top jackpot. Double Diamond wasn't the first game with a multiplier, but it has had remarkable popularity and staying power. Among its many sequels: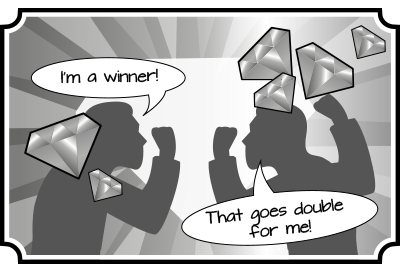 **Double Diamond Deluxe,
a "nudge" game in which bar symbols with diamonds either drop down to the payline from above if the diamond points down, or nudge up if the diamond points up.
**Triple Double Diamond,
where instead of payoffs being twice the usual with one special symbol or four times with two, they're triple the usual with one Triple Double Diamond, and nine times pay with two.
**Double Diamond 2000,
a five-reel video slot that brought the popular multiplier feature to low-denomination players.
**Double Triple Diamond Deluxe With Cheese:
A three-reel slot with Double Diamond and Triple Diamond symbols, this one also has the diamond-pointing nudge feature of Double Diamond Deluxe and a top-box bonus game.
In the bonus event, lighted dice roll in the top box they move you though layers of a cheeseburger – bun, burger, cheese – and you collect credits along the way. The success of the original Double Diamond also inspired Five Times Pay and Ten Times Pay, which use the same kind of multiplier format. Double Diamond is frequently used as a base game on IGT progressive and bonus systems such as Wheel of Fortune and Megabucks.
SPHINX:
Slot players have been happily exploring the mysteries of ancient Egypt since 1998, when Atronic introduced the original Sphinx five-reel video slot. Sphinx and its sequels remain with us today through IGT, which acquired the Atronic catalog through its merger with GTECH. Sphinx was one of the first video slots with a two-tiered bonus round, kicking the fun up a notch from the first second-screen bonuses. In the Sphinx bonus event, the second screen takes players into the Pharaoh's tomb where they must choose their path. The right choice leads to the inner sanctum, where more selections bring bigger bonuses.
Players loved it from the start, leading Atronic to bring out a sequel, Sphinx II. Sphinx II is basically the same game with the same mysterious, two-level bonus, but adds two-way wagering – increase your bet, and you can line up winning combinations from right to left as well as the traditional left to right.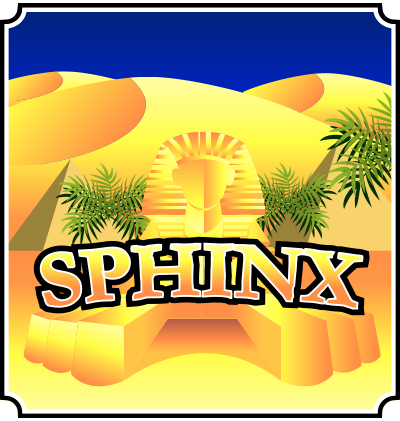 Atronic built further on that with Sphinx Magic, adding another bonus round for a progressive jackpot. One of the most recent additions to the family is Sphinx 3D, which features some amazing three-dimensional video. In a bonus event that takes you on a journey through the Sphinx, stacked wilds are really stacked. The stacks are no mere columns of the same symbol. Coin-shaped discs depicting a scarab stack up on the same reel position – the stack looks like it's rising right off the screen.
RED WHITE AND BLUE:
In the days that three-reel slots ruled casino floors, Red White and Blue perennially ranked near the top of the most-played games around. Now that video slots command the majority of play, Red White and Blue still holds its own. The attraction is the payoff on 7s combinations. The big jackpot is for a red 7 on the first reel, a blue 7 on the second and a white 7 on the third, but any combination of three 7s will bring out a nice payoff. Red 7s bringing the next biggest payoffs, followed by whites, blues and mixed.
The bar symbols are color-coded, too, with single bars being red, doubles being white and triples being blue. Red, white and blue bars in order bring bigger payoffs than mixed bars out of order. With colors as well as symbols making a difference, there are a larger-than-usual number of possible winners than on most three-reel slots. Red White and Blue was one of the first three-reel slots to draw players with a relatively high hit frequency – not as high as video slots made possible, mind you, but high for three-reelers. IGT has offered a variety of Red White and Blue-based games over the years, sometimes blending it with other product lines as in Five Times Pay Red White and Blue and Red White and Blue Double Stars.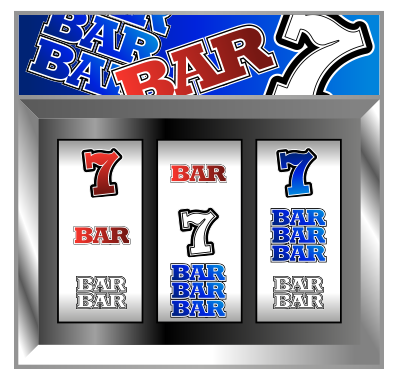 Early in the video revolution, when IGT was adding LCD panels to its top box for bonuses, it used Red White and Blue in the Racing 7s bonus where the first 7 to cross the finish line brought a bonus.
REEL 'EM IN: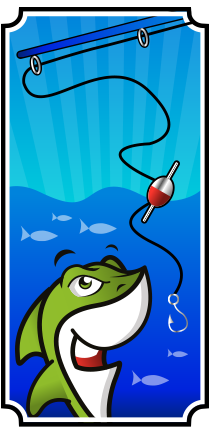 This WMS favorite has been mentioned a few times in this guide as a trend-setter that attracted players to video slots in the late 1990s. The game remains in play today with its original bonus event. You choose among five fishermen on a pond. The bigger the fish your choice reels in, the bigger your bonus. Follow-up games have built on the success of the original.
Among the sequels:
Reel 'Em In: Cast for Cash:
If one video screen is good, how could two not be better? You're still picking among fishermen on a pond, but this time they're on a screen in the top box. On the main game screen, you can see the fish swimming. When your fisherman drops a line in the water, you see a feeding frenzy below as the fish strike the bait. Again, the bigger the fish the better, but this time you can also win extras such as a fishing derby or a virtual trip to a global fishing hot spot. At each of those hot spots, there's a special fish worth a big prize, such as the Monster at Loch Ness or the Legendary Elvis Fish at Lake Mead in Las Vegas. Gotta love those sideburns.
Reel 'Em In: Big Bass Bucks:
This time there are three bonus events, with the best being the Big Bass Hole. At the Bass Hole, you don't stop at a single fish. You keep dropping your line in the pond until you fail to catch a fish. Each time you land a bass, you land a bonus, too.
Reel 'Em In: Compete to Win:
In a community-style bonus, you compete with other players to see who can land fish worth the most points.The popular fishing format has proved worthy of multiple trips to the ol' fishin' hole.
WHEEL OF FORTUNE:
Based on the worldwide hit TV game show, Wheel of Fortune slots have been a major presence in casinos since the original three-reel version debuted in 1997. The bonus-wheel games have been so popular there have been almost countless sequels. Rarely does a year go by without IGT bring out a new Wheel of Fortune game. Among the Wheel of Fortune sequels have been:
**Wheel of Fortune Ultra 3 Reels and Ultra 5 Reels:
Both are on video, but 3 Reels is designed for higher coin denominations and 5 Reels for low-denomination play. Both add stacked wild symbols to open possibilities for big, multiline payoffs. The Mini Wheels Bonus comes when three or more scatter symbols appear. The scatter symbols then turn into mini Wheels of Fortune, and when they stop spinning their values are added together for your bonus. The main event is the Ultra Wheel Bonus, and that's played out on three wheels overhead. A bonus reel will reveal how many wheels will spin – one, two or all three. Even one wheel brings a nice prize, but when all three bring you a combination of credits and multipliers, it's special.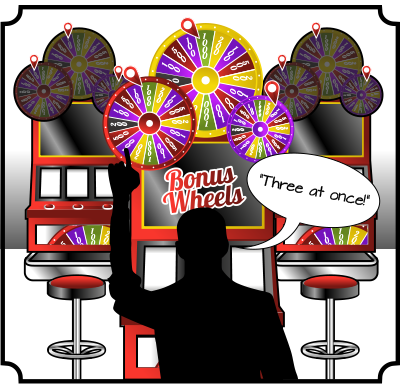 **Wheel of Fortune Special Edition Super Spin:
Nine players sit around a giant wheel. More than one player can get in on the same bonus spin for a community feel.
**The Wheel of Fortune Experience:
A community-style bonus enables three players to choose letters to solve a word problem.
**Wheel of Fortune Power Wedges:
A wheel game with a progressive jackpot, Power Wedges gives bigger bettors a bigger chance at a jackpot. A video bonus wheel gives you a chance at winning either bonus credits or progressive jackpots. Configured for 1-cent players, the bonus wheel has wedges for bonus credits, but none for the progressives if you bet 100 or 200 credits.
Bet 300, and there's one progressive wedge, bet 400 and there are two progressive wedges, and a max bet of 500 credits brings four jackpot wedges to the wheel. The bigger the bet, the bigger the jackpot opportunity. IGT has found a great deal of flexibility in what it can offer in the Wheel format, just as other gamemakers have found a great initial concept coupled with flexibility have led to enduring popularity.

Slot games have popularity cycles, but some games last as enduring player favorites.
Themes that last have initial popularity, but also lead to sequel games.
Among the slot themes with seemingly eternal popularity are Blazing 7s, Double Diamond, Sphinx, Red, White and Blue, Reel 'Em In and Wheel of Fortune.

TEST YOURSELF
Why can games hold on longer past peak popularity in online casinos than in live casinos?
True or False: Blazing 7s has earned its place in casinos for more than 40 years.
In Double Diamond games, if you have a single bar and two Double Diamonds, you are paid: A. The same amount as three bars, with the diamonds being wild; B. Twice the usual amount for three bars; C. Four times the usual amount for three bars. D. Nothing, you don't have three matching symbols.
What's the difference between stacked wilds on most games and stacked wilds on Sphinx 3D?
In Red, White and Blue, do the colors matter only for 7s?
Answers
Games hold on longer past peak popularity in online casinos than in live casinos because they don't take up physical space. In live casinos, slots that decline in earnings are removed to make way for new games.
True: Blazing 7s, invented in the 1970s, has earned its place in casinos for more than 40 years.
In Double Diamond games, if you have a single bar and two Double Diamonds, you are paid: C. Four times the usual amount for three bars.
On most slot games, stacked wilds means a column is filled with wild symbols. On Sphinx 3D, with outstanding three-dimensional imaging, wild can stack up on a single space, seemingly reaching above the screen.
In Red, White and Blue, the colors matter not only for 7s, but for bar symbols where getting red single bars, white double bars and blue triple bars in that specific order bring bigger payoffs than three mixed bars in any other order.
Written by John Grochowski
READERS FAQ
You can't see the random number generator at work as it determines your results on the slots.
That leads to a certain mystique as players wonder how to get the best of the games. The way to penetrate that mystique is to ask questions, and that's something players do. This chapter provides answers to the questions players ask most. Some have been answered throughout this guide in explanations of how the machines work. Here, you'll find some of the hottest topics gathered into one chapter with concise replies.
Among the questions asked most often are:
How can you win on the slots?
What is the best strategy for playing slots?
How can you tell when a machine is about to pay off?
How do you choose the right machine?
In this chapter, you'll learn just what is possible and what is not possible with respect to the things players most want to know about slot machines.
FAQ NO. 1: HOW CAN YOU WIN ON THE SLOTS?
Answer: With extremely rare exceptions, you can't beat the slots on any consistent basis. Slots are as pure a game of chance as there is in the casino, with random, unpredictable results.
There are a few things you can do to maximize your payback percentage, as detailed in Chapter 8: Maximizing Payouts.
You can be sure to bet the max on machines with large jackpot jumps at the top of the pay table.
You can scout progressives and play only when jackpots are at a high level.
Where machines with banked bonuses are available, you can look for partially completed bonuses and gain a small, short-term edge.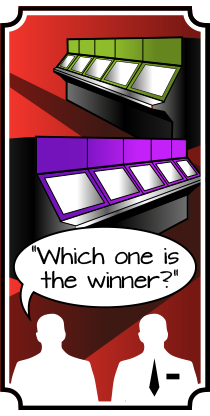 In addition, those who play well on the small selection of games with skill-based bonuses can get a higher payback percentage than weaker players, as outlined in Chapter 5.4: Mystery Bonuses and Skill-Based Bonuses. However, there's no guarantee you will win a progressive; progressive jackpots rarely are high enough to cancel out the house edge; banked bonuses are rare and there's no guarantee you will ever find one with a partially completed bonus; and while good play will improve your returns on skill-based bonuses, the house edge is high enough on the non-bonus portion of the games that players can't gain an edge. Everybody who plays slots can win sometimes, but the wins are a matter of chance. Enjoy the wins when they come, but understand losses are part of the game and no one can win consistently.
FAQ NO. 2: WHAT'S THE BEST STRATEGY FOR PLAYING SLOTS?
Answer: There is no strategy that can change what you will see on the slot reels or screen. The best strategies involve money management and making sure you don't risk money you can't afford. Consider the following chart of wager sizes, typical payback percentage and average losses per hour when you make 500 spins per hour: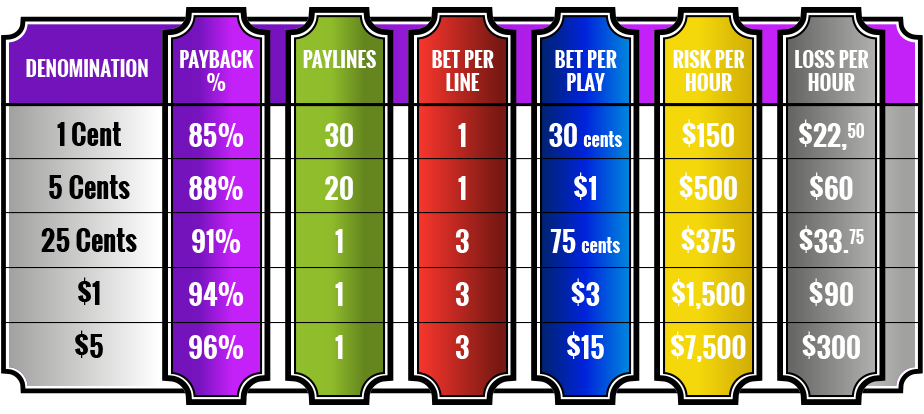 Payback percentages are in line with the ranges listed in Chapter 1: Slot Machine Basics, though some casinos offer higher paybacks than others and there is room for variation. If you bet more than one coin per line on video slots average risk and loss increase proportionally, so that a 2-cent per line bet on a penny slot takes risk up to $300 and average loss to $45 per hour.
Note that as the money you risk rises, so does your average loss.
That's something to keep in mind as you plot your strategy for a day in a land casino or a lengthy time in an online casino. If you have $100 and expect to make it last, you can't afford to play higher-denomination games. Penny slots are more your speed. Even if you start with $500, $1 slots are iffy and $5 slots are out of the question.
With a $500 base, a player who wants to try $1 slots needs to remain aware of the state of his bankroll. If you lose $200 quickly, it's time to think about cutting back to 25 cents or to less expensive video slots. To have a 90 percent chance of staying in action for three hours without draining your bankroll, you should be prepared with about 250 bets worth of money. Therefore, the recommended session bankroll for the games listed above would be at least $75 on penny slots with a one- coin per line bet, $250 on nickels, $187.50 on quarters, $750 on dollars and $3,750 on $5 slots.
The recommendations rise as your wager rises. If you bet two coins per line instead of one on a 30-line video slot, then your base bet is 60 cents and the three- hour bankroll recommendation rises to $150. Even with adequate bankroll, there remains a 10 percent chance your funds will drain in less than three hours. There also will be times you win, and even win big. All that leads to the following strategy recommendations for playing the slots:
Choose games that fit your bankroll – don't overbet.
If you find yourself losing early in a session, take a timeout to relax, and consider reducing your bets.
Set a limit on how much you are willing to lose before you play.
If you are winning, stop to make a conscious choice whether to add those winnings to your session bankroll or to put them away as money you're sure to take away from the casino.
With any large win, bank at least half as money to take home.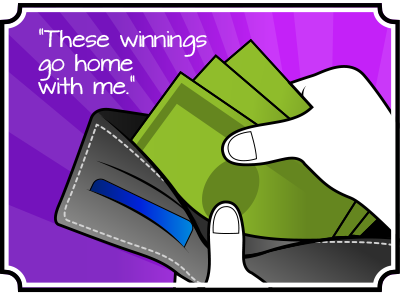 A woman once told me she'd won a $1,000 jackpot on a quarter machine, moved up to dollars and lost it all. I told her there's nothing wrong with taking a chance on dollars with some of the extra money, but the smart move is to take $500 of that $1,000 and put it away, not to be touched again in that casino session.
Slots are entertainment that is enhanced by the shot to win. They are not consistent profit-making opportunities. Enjoy the wins when they come, but stay within your betting limits so that the losing sessions are just a reasonable price for the day's entertainment.
FAQ NO. 3: HOW CAN YOU TELL WHEN A MACHINE IS ABOUT TO PAY OFF?
Answer: You can't. Machines give no signal that they're about to pay off.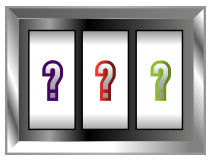 There is no special sound, nor is there any clue on the reels or screen that a payoff is coming. Results are as random as humans can program a game to be. All results are possible on all spins, and there is no way to tell what's coming next.
FAQ: NO. 4: HOW DO YOU CHOOSE THE RIGHT MACHINE?
Answer: A large piece of the puzzle is choosing a game that fits your bankroll, as discussed in FAQ No. 2. Beyond that, it comes to personal preferences.
If you want the best shot at a big jackpot, and are willing to accept a low hit frequency, then three-reel games with big jackpots or progressives are your games.
If you want a shot at a big jackpot, but prefer to balance it with a moderate amount of small wins, then look for big-jackpot video games. If you want a high hit frequency but with a shot at some big wins, video slots with free spin bonuses are for you.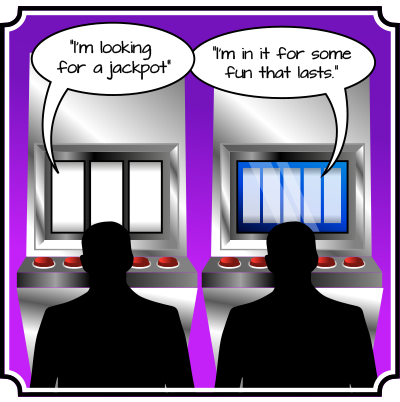 If you want very high hit frequencies that will extend your play with small wins and are looking more for entertainment than jackpots, then video slots with pick'em bonuses are your first choice.
Those are simplifications. There's some overlap in playing styles, and many video slots have both pick'em and free spin bonuses. But that's a general guide, a starting point when you ask yourself what kind of game you find the most fun to play.
FAQ NO. 5: IS IT BETTER TO PLAY VIDEO OR THREE-REEL SLOTS?
Answer: That depends on your preferences.
Three-reel games tend to have fewer winning spins, but a better chance at a big jackpot. Video slots tend to have more small wins, but a lesser chance at a lifestyle-changing payout. Odds are designed so the house has an edge, but results on video slots are just as random as on three-reel games.
FAQ NO. 6: HOW CAN YOU TELL A MACHINE'S PAYBACK PERCENTAGE?
Answer: You can't.
Payback percentages on individual games are not published. Games are designed with several possible payback percentages, and it's up to the operating casino to decide which to put on its floor or website. But the casinos don't tell players which version they are offering. In many states, gaming boards publish payback percentages, but they are casino-wide averages for each coin denomination, not percentages for each machine.
FAQ NO. 7: IF A CASINO SAYS ITS MACHINES PAY 90 PERCENT, DO ALL MACHINES PAY 90 PERCENT?
Answer: No, such a figure is a casino-wide average.
All the wagers and all the payouts on all machines in the casino are calculated into a single average. Similarly, when a gaming board reports payback percentages broken down by coin denominations, what's reported is a casino-wide average. For example, if a monthly report says a casino's 1-cent slots paid 86 percent, that means all the bets and all the paybacks on all the casino's 1-cent machines were lumped together to calculate an average payback percentage.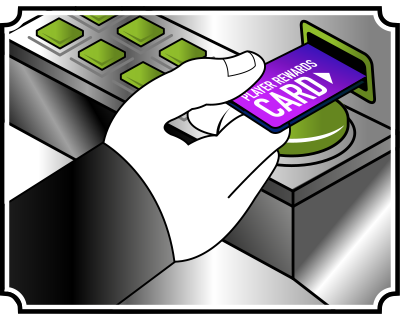 FAQ NO. 8: CAN YOU OVERCOME THE HOUSE EDGE WITH PLAYER REWARDS?
Answer: No, player rewards aren't large enough to make up the difference between slots' payback percentages and 100 percent.
The most generous player rewards club I've ever encountered returned the equivalent of 1 percent of wagers in cash back and another 1 percent in comps. Even if you assume a $5 machine paying 96 percent, 1 percent in cash and 1 percent in comps takes you to only 98 percent. That's with an exceptionally generous club. More typical are cash back and comp rates ranging from 0.2 percent to 0.5 percent.
FAQ NO.9: HOW DO PAYBACKS ON SLOTS COMPARE TO OTHER GAMES?
Answer: Payback percentages are inverses of the house edge. That is, a game with a 90 percent payback percentage has a 10 percent house edge.
Analyses of table games usually use house edge instead of payback percentage. The following chart compares house edges on a number of games, including slots: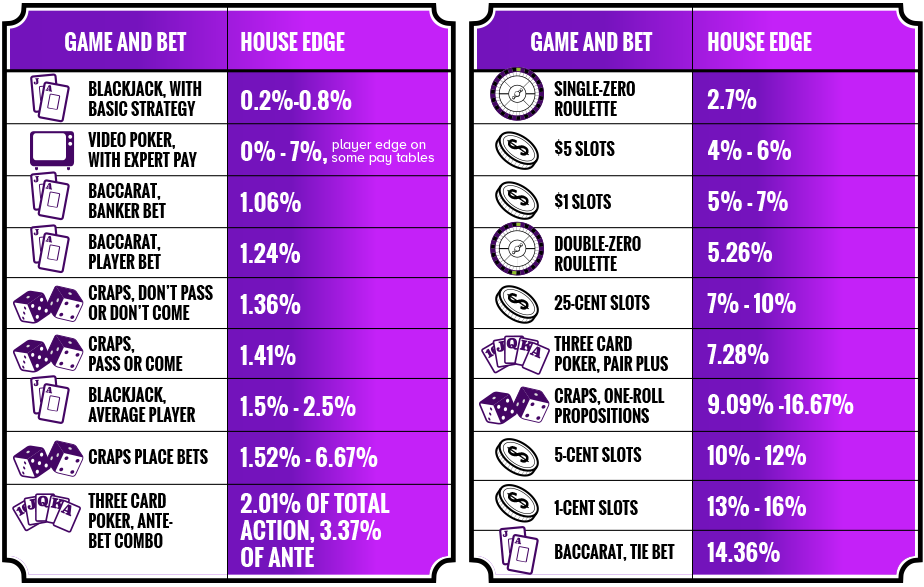 Blackjack house edges change with house rules and video poker returns vary widely with available pay tables. But you can see that slots have a relatively high house edges. The tradeoff is that you can play with smaller wagers than on tables, and that the games offer entertainment value beyond your paybacks. Those factors make slots popular favorites with players.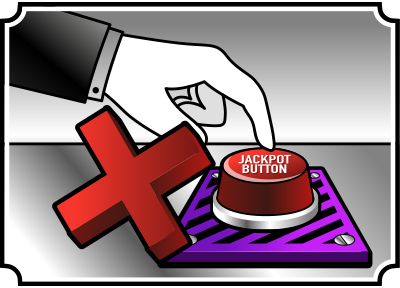 FAQ NO. 10: HOW DO CASINOS DECIDE WHEN YOU WIN? CAN THEY TELL A MACHINE TO GIVE YOU A JACKPOT?
Answer: No, casinos can't decide when you win. That's between you and the random number generator.
For a long time, there has been a popular myth that casino operators can reward players by pressing a jackpot button from a remote location. There is nothing to that myth. The casino's control over results starts and stops with deciding which version of a game to purchase, with odds leading to a desired payback percentage. In regulated or game-certified casinos, there is nothing an operator can do to influence results on a given spin.
FAQ: NO. 11: CAN THE CASINO MAKE THE MACHINE GO COLD IF YOU'RE WINNING TOO MUCH?
Answer: No. Hot streaks and cold streaks grow out of the normal odds of the game and random results.
Smart casino operators wouldn't even want to stop a player on a hot streak. Casinos need winners to spread the word to friends, co-workers and acquaintances. Without winners, no one would play. Operators also understand that over many thousands of plays, the inevitable losing spins will balance out the big winners and the machine will pay something very close to its expected percentage. Let's imagine you're a player on a hot streak at a machine that normally would pay 90 percent.
In this hypothetical example, you're betting $1 per spin, and in the last 10 minutes or so, you've wagered $150. You've also had a hot streak, with 10 $5 wins, four $10 wins, two $20 wins, a $100 win and a $3,000 jackpot for a total return of $3,230 for your $150 wagered. Now let's say players come and go over the next few weeks, spinning the reels 200,000 times and getting the normal 90 percent return. That means their returns total $180,000. When your play is included, that's $200,150 wagered, and $183,230 returned. The payback percentage, even including your hot streak, is 91.5 percent. Your streak has moved the return only 1.5 percent. With 500,000 plays at normal payback after your streak, the payback percentage is down to 90.6 percent.
As long as the machine keeps paying its normal return, your streak eventually fades into statistical insignificance. The same goes for long cold streaks. Eventually, normal paybacks will bring the overall return close to expectations. Hot and cold streaks are both normal parts of the game, and both eventually fade into insignificance. There is no need for the casino to force cold streaks after a hot one.
FAQ NO. 12: DOES IT MATTER WHEN YOU PLAY? DO SLOTS PAY MORE AT LESS BUSY TIMES?
Answer: The odds on slot machines remain the same no matter how busy or how slow the action at a casino.
In order to change the odds so that games paid more at less busy times, operators on land casinos would have to stop the games and change them – and they'd have to have approval from regulators. In most slots in land casinos, that would require opening the game to change a chip, and that's usually done by removing the central processing unit and taking it to a back shop to make the change. On some server-based games, it's possible to make the change remotely, but regulators require that the machines be halted and a message displayed that a change is being made. The busy/not busy time doesn't really apply to online casinos.
There, players aren't influenced by what they see from other players, and that's the basis of this myth.
The reason for higher pays at less busy times, according to the myth, is that players want to feel they're in a casino where people are winning.

In a crowded casino, you'll see other players winning just because there is a lot of play happening. In a less crowded casino, it can be a longer time between observed wins because less play means fewer opportunities. However, regulators would frown on changing games routinely day to night or weekday to weekend. Even with approval, a double dose of down time would be unprofitable, with one change to increase payback and one to bring it back down, every day to night and night to day, or every weekend and back.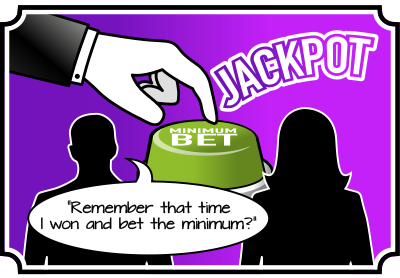 FAQ NO. 13: ARE JACKPOTS TIMED SO THEY COME WHEN YOU BET LESS?
Answer: Jackpots aren't timed at all. They are random.
This is an old belief among players, and it's the result of selective memory plus word of mouth. It's not a far leap from a player winning while making minimum bets to a firm belief that the wins come only win minimum bets. But if players actually kept track for thousand plays with results after minimum bets and results after larger bets, they'd see that wins and losses come up in the same proportion no matter what size the bet. The random number generator isn't fed information on how much you wager. It just keeps generating random numbers. What you see on the screen or reels isn't affected by the size of your bet.

Slot wins are random, and no strategy can change what you see on the screen or reels.
The best strategy for playing slots is to play games appropriate to your bankroll and set limits on losses.
Slot paybacks are lower than on some other casino games, but slots have low minimum bets and emphasize entertainment value
TEST YOURSELF
True or False: Players can't get an edge on slot machines except in rare circumstances such as large progressive jackpots or partially completed banked bonuses.
The best strategies for playing the slots: A. Look for a pattern in wins and losses. B. Conserve your bankroll so that even losing sessions are a fair price for entertainment. C. Size bets at one coin per line for the first 10 plays, then go to bigger bets after the machine has been primed.
What signals should you look for that tell when a slot machine is ready to pay off?
How can you tell a slot game's payback percentage?
Can you beat the slots if you include player rewards along with your payouts?
Casinos can make sure valuable players win a jackpot by: A. Pushing a jackpot button from a remote location. B. Steering players to games that are reader to pay off. C. Keying in a code at the game. D. None of the above.
If you're in a hot streak at the slots, can the casino make the games go cold?
Do slots pay more at less busy times so others see more jackpots to entice them to play?
Do slots pay off more often when you bet less
Answers
True, players can't get an edge on slot machines except in rare circumstances such as large progressive jackpots or partially completed banked bonuses.
The best strategies for playing the slots: B. Conserve your bankroll so that even losing sessions are a fair price for entertainment.
There are no signals to look for that can tell you when a slot machine is ready to pay off. Results are random and all results are possible on all spins.
There is no way for players to tell a slot game's payback percentage. While casino-wide averages often are published by gaming boards, individual game percentages are not.
No, you can't beat the slots if you include player rewards along with your payouts. Player rewards are not high enough to make up the difference between a game's payback percentage and 100 percent.
False, the house edge on slot games is not lower than on table games. In fact, the house edge on slots tends to be on the high side compared to other casino games.
Casinos can make sure valuable players win a jackpot by: D. None of the above. Casinos have no control over who wins jackpots or when jackpots are won.
No, if you're in a hot streak at the slots, the casino can't make the games go cold. Results remain random.
No, slots don't pay more at less busy times so others see more jackpots to entice them to play.
No, slots don't pay off more often when you bet less. The random number generator doesn't know how much you bet.
Written by John Grochowski
SLOT MACHINES ETIQUETTES
Casino visits aren't just about winning or losing; they're also about having a good time.
That's especially true on slots, where losing sessions greatly outnumber winners and it's the entertainment value that keeps us coming back between big wins.
Other players also are there to have a good time. Sometimes the interests of players conflict. That's when we need to follow a few rules of etiquette to make sure your good time doesn't interfere with mine, mine doesn't interfere with yours, and neither of us interferes with casino employees' right to do their jobs without abuse. In this chapter, you'll find a few rules of etiquette. Most apply mainly to live casinos where there is more customer interaction, but there a couple for online casinos, too.
PLAYING MULTIPLE MACHINES
When crowds are sparse, there is nothing wrong with playing more than one machine at a time.
However, at busy times when playing space is at a premium, limit yourself to one game. Many casinos even have signs asking you to limit yourself to one machine in busy times. Playing multiple machines is more common on three-reel games than on multiline video slots. I once watched in fascination as a woman played an entire row of six machines, hitting the max bet button on one game after another without stopping to see the results.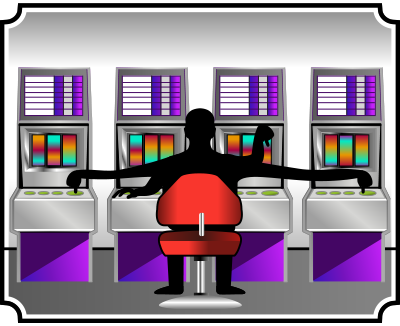 She'd find out whether she won when she got back to the machine a few seconds later. Even on video slots, some players position themselves to hit the button on a second machine while the first is still spinning.
That's fine, as long as space is available and you're not keeping someone else from playing. When there's a wait for games, stick with one machine and give others a chance.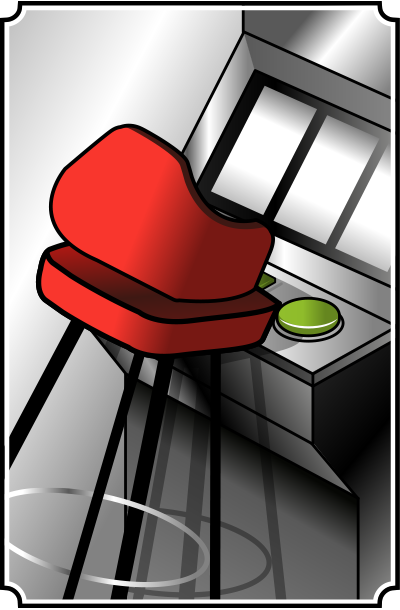 SEATS ARE FOR PLAYERS
Slot machines generally have one seat at each game. If you take that seat and don't play, you're taking that game out of commission. That both denies others the opportunity to play, and interferes with the casino's opportunity to make money. A game not played generates no revenue. That said, sometimes you just need to take a load off your feet. If the casino's not busy, no one will quibble over a short break at an empty machine. For a longer break, though, you should head to a lounge, snack bar or some other area with seating for non-players. Similarly, when one person in a couple or group is playing and others are watching, it's bad form to scoot chairs over from other machines for the watchers. Others who want to play the games shouldn't have to stand, or ask a watcher to give up the seat. If you're watching rather than playing, stand. Seats are for players.
SIGNAL YOUR BREAKS
Taking care of basic needs is important. Players are going to take toilet breaks, and in casinos with self-serve beverage dispensers, some will break to get a drink. If you expect to come back and play the same game after the break, you need to leave a sign that you're coming back, lest someone take your seat while you're gone. For many years, the most common signal that a game was in use was a coin cup atop the screen on a slant-top machine, or over the handle on an upright game.
Now that payoffs are in tickets rather than coins, few casinos have coin cups. Other methods are needed. Some slot manufacturers build a "waiting" mode into the machines that will deactivate the game and signal that it being saved. Time periods such as a 20-minute maximum are specified. However, the wait mode is not popular among U.S. casino operators, and they do not activate the feature on games that have it. One widely accepted signal is to tip the chair forward so the back rests on the machine. That tells other players the game is occupied.
Another way to do it is to leave a drink or inexpensive personal item such as cigarettes or a players club card on the screen. If there are other players at the bank of machines, it is OK to ask another to watch your game while you're gone. However, you need to understand that if the other player hits a cold steak and runs out of credits, or needs to leave for any reason, he or she is not obligated to stay and watch your machine. Do not leave anything of real value at the machine. If you leave a purse, wallet, coat or full shopping bag at the game, you're might come back to find yourself without a purse, wallet, coat or shopping bag. Do not leave credits on the machine unless you have someone you know watching it for you. With ticket pays, a thief can cash out and be away with your credits in seconds.
PLAYERS CLUB CARDS LEFT IN MACHINES
If you leave your players club card in the machine's reader, do not expect others do read that as a signal you're still playing. Players club cards are left behind all the time by forgetful players. If you meant to come back and left a card as the only signal, don't be surprised if another player is at you game when you return. The other player in that situation has done nothing wrong. You can ask the other player if you can have the game back, but he or she can refuse. If you're in the opposite situation, and there is someone else's players card in a game you are about to play, it is OK for you to go ahead. Take the other player's card out of the reader and place it on top of the machine so they can collect it quickly if they remember where they left the card and come back for it.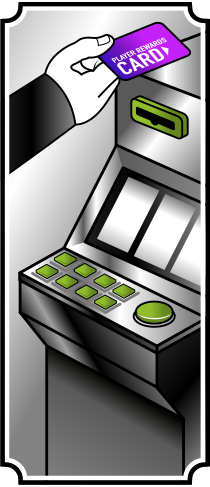 KEEP BREAKS SHORT
Holding the machine while you take care of personal needs is fine for 10 or 15 minutes. It is not fine if you want an hourlong lunch break or need to make a business call that will take a half hour or more. If you're not playing, the game is best used to give others another playing option.
SMOKING AT THE SLOTS
If smoking is permitted at the casino where you play, then there is no problem with puffing at the games. Nevertheless, a little courtesy toward others is called for. All of these etiquette tips are things most smokers do as a matter of course. However, there are enough transgressions every day to trigger customer complaints and sometimes confrontations. Don't blow smoke in the face of another player. Exhale away from others. Keep your ashtray on your own machine. Other players don't want you reaching toward their game to flick your ashes. Use the ashtray. Finding ashes in a game tray or on the button panel is a serious turnoff to other players. Do not smoke in designated no-smoking areas.
In casinos that permit smoking but set aside areas for non-smokers, there are far more gaming options in the smoking areas than in the non-smoking rooms. Give the non-smokers the break they're looking for and don't light up in their designated area. Do not smoke in non-smoking casinos. In some jurisdictions, that's not just casino policy, it's the law. The U.S. State of Illinois, for one, has banned smoking in public places that include casinos. If you smoke in that situation, you not only irritate other customers, you leave yourself open to arrest and fine.
TIPPING
Slot players don't interact with dealers on every play, as table games players do. There are far fewer situations in which tipping casino personnel is common behavior. On slots, the main tipping situation comes with hand-paid jackpots. Most slot machine payoffs just add credits to the meter. However, large jackpots are paid by a slot attendant or supervisor, sometimes accompanied by a security guard. Tips always are optional. You do not have to tip those who pay you. Nonetheless, most players tip after large hand pays.
How much is open to question.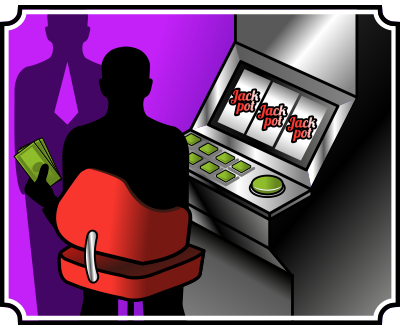 One common amount is $20 on a $1,000 jackpot. The first time I ever had a $1,000 win, I was paid with nine $100 bills and five $20 bills. Clearly, the attendant was hoping one of those $20 bills would come her way. But you don't have to tip $20 per $1,000. I know players who tip $5 or $10 per $1,000, and the tips have always been accepted graciously by the slot attendant.
There also is decision to make when you're being paid by multiple people. If I'm being paid by a slot attendant and a security guard, I ask the guard if he's allowed to accept tips – some casinos permit tips to guards and some do not. If he can accept, then I'll split the amount of my intended tip between the attendant and guard. Occasionally, especially on very large jackpots, there will be three people in on the payoff, with an attendant, guard and a slot manager or executive. Managers and executives often are not allowed to accept tips. If you're of a mind to offer, ask if they're allowed to accept. I usually do not tip execs, who are better paid than attendants and who are not reliant on tips to make a living. In the end, it's up to you. It's your money, and you can decide how much to spend on those who are providing you with a service.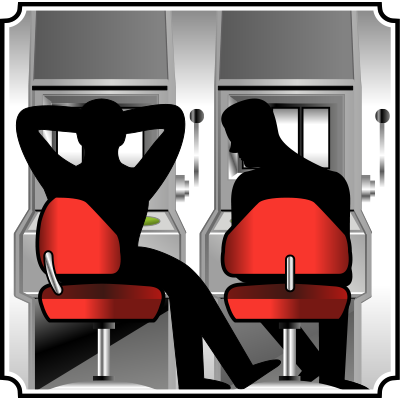 INTERACTIONS WITH OTHER PLAYERS
Keep it friendly, as best you can. Disputes between players are a lot more common on tables than on slots.
Slot players don't have strategy to argue over and they can't really accuse another player of ruining their shot to win. Disputes come mainly over personal space ("Could you please keep your legs under your own machine?"), spilled drinks and the occasional jostle when someone is not-so-carefully hustling past. When the bumps, spills and encroachments happen, polite, profanity-free requests and apologies usually will keep things on an even keel. On rare occasions, disputes will arise that players just can't – or won't – sort out for themselves. I once witnessed a scene where a man stood at a slot chair, hand on back, as he reached into his pocket for his wallet. He clearly was getting out cash to play the game, but another player darted in and sat down before him. The first player immediately said, "Hey, did you not see I was holding this seat?" The second shot back,"What I saw was an open seat and I took it." The incident degenerated from there, with shouting and name-calling on both sides. A slot attendant stepped in and told the first player, "Sir, we have the same game right over there? Can I show you?" She led the player away and defused the situation. Most of the time, a little common courtesy works best, but sometimes a casino employee will be needed to resolve a dispute.
INTERACTIONS WITH CASINO EMPLOYEES
As with other players, polite and friendly works best with casino employees. Whether you're being paid by hand, signing up for a players club card or requesting a comp, you're receiving a service. Workers who provide services tend to do so more eagerly when treated with respect. I once saw a player who already had been served a couple of drinks by the same waitress shout, "Hey, waitress! Over here!" A slot attendant clued him in. "Her name is Jill." Casino personnel wear name tags, and it helps humanize your requests if you call them by name. There may be times that you're having a problem with a game that didn't pay when you thought it should, or by a players club meter that you think isn't tracking your points properly. By all means, ask a slot attendant to look into the issue. Every casino trains its employees to deal with any problem. But if the attendant tells you there is nothing they can do, don't scream at the attendant. If the attendant can't provide a satisfactory explanation, then it's OK to ask to see a supervisor. But screaming at the attendant accomplishes nothing but creating a little ill well. Polite, respectful requests usually bring the most favorable attention.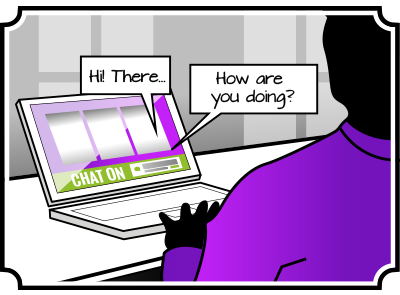 ETIQUETTE ONLINE
When you're playing online slots, interactions with others are few and far between. For the most part, it's just you, your computer or mobile device, and the game. Some online casinos provide chat activities, so you can converse with others as you play. These are more common on table games, including poker, and are especially popular in online bingo rooms. If you find a chat function while playing online slots, the same basic rule for interacting with others applies as in live casinos: Be polite, friendly and respectful. One problem specific to online play sometimes arises: Do not use the chat function to promote outside products, particularly other online casinos.
The online casino that is hosting your play has a right to expect it to be free of attempts to drive business to competing casinos. Reserve the chat function for friendly messages about the games and casino stories.

Respect for others is the key ingredient in slot machine etiquette.
Do not take extra machines or chairs for non-players during busy times.
If you intend to return to a game after a break, leave a signal that you're coming back and keep breaks short.

TEST YOURSELF
Playing multiple machines is: A. OK when the casino is not busy. B. Always OK. C. Never OK.
What are some ways to signal that you're taking a short break but will be returning to the same game?
What should you do if you find someone else's player's club card in a game you are about to play?
True or false: It is widely accepted that you should tip slot attendants 10 percent of any large jackpot.
What is one important thing to avoid in chat areas of online casinos?
Answers
Playing multiple machines is: A. OK when the casino is not busy. In fact, many casinos have signs asking players to refrain from playing multiple machines during busy times
Some ways to signal that you're taking a short break but will be returning to the same game include tipping the chair so it rests on the machine, leaving a drink or inexpensive personal item on the game screen, and asking other players to hold your game.
If you find someone else's player's club card in a game you are about to play, you should remove the card and leave it on top of the machine so it can be picked up easily if the other player returns.
False: It is not widely accepted that you should tip slot attendants 10 percent of any large jackpot. Tips are entirely up to you, and most players tip much less than 10 percent.
One important thing to avoid in chat areas of online casinos is promoting outside products, especially competing casinos.
Written by John Grochowski